With this global pandemic and in-dine shutdown, restaurants and hospitality industry are one of the hardest-hit industry. It's a challenging time to decide what steps you must take in order to keep your restaurant afloat. Sitting back and waiting for this pandemic to be over is no choice. It's time to be proactive and question- how can I run my business during this pandemic?
Here are few small changes that can help restaurateurs
1. Think delivery and takeaway
For restaurants in many states, delivery and takeaway are the only option available to serve customer. With hungry customers wanting food to be delivered to their doorstep, Consider offering delivery if you haven't. Look for a delivery partner or do it yourself. Ask your staff on leave, if they would like to delivery. Also make sure your delivery drivers follow all the safety precautions while delivering. Focus on timely contactless delivery, sealed packaging. Also takeaway can be another option to stay open. You don't want your customer to wait in lines, so facilitate order ahead option.
With your online ordering system set up your delivery zone, customize delivery prices, track and manage delivery orders. Give your customer power to choose delivery or takeaway.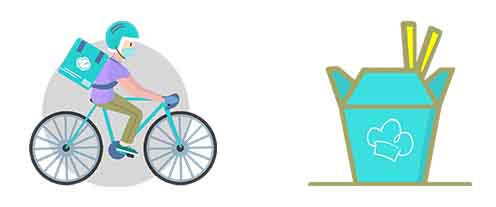 2. Less is more: Limited menu
Keeping a limited menu helps you save plenty of food cost. As COVID-19 has affected your business, you don't really want to stock up your inventory with unnecessary items and in turn waste food.
Look at your current inventory, identify items that will spoil soon, items you can uses in multiple menu, study value and cost of each cuisines you are offering, study your sales data and design a Lockdown menu. Once you have designed the menu just update the new menu to your online ordering system.
3. Set up your own online Ordering system
An online ordering system from where customer can order directly from restaurant is very beneficial. First and foremost, your customer need not wait in line for takeaways or for delivery. Secondly, you avoid heavy commission charged by delivery aggregators. A win-win for both.
4. Promote COVID Safe restaurant
Update your followers about your new services ( Takeaway, Delivery), your new menu through your social media platform. Spread the message that you're taking all the necessary sanitary precautions to keep your staff and your customers safe.
Create videos and photos showing how food is prepared, and delivery are done with all the necessary sanitary precautions. Promotional campaigns that acknowledge the COVID situation "Skip the line, order ahead", "Not in dining, it's contactless dining time".
5. Thank your customer
Small appreciation goes a long way to retain your customers. Small gesture like handwritten thank you note, "Thank for your support. Here's a strawberry pie to complement your meal" goes a long way. Give customer coupons, vouchers, discounts customer they can use in future purchases.
Always stay updated
Stay updated about global pandemic, governments new updates about global pandemic. Read news, blogs, Here are top resources
https://resources.foodsafety.com.au
One Corner is here to help.
We understand the needs of hospitality industry and are keen to assist hospitality industry by developing technologies that help them manage and operate their business.
Talk to One Corner expert today to learn more about new possibilities. Send us a message: or email us at: contact@onecorner.com.au .